About Kremer Resources LLC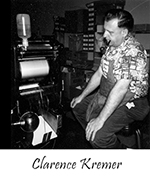 The history of Kremer Resources LLC dates back to 1948 when Clarence and Lydia Kremer established Kremer Letter Service in Milwaukee, Wisconsin. Although church printing was the main service they provided, they soon branched out into other areas and began to supply churches and schools with other products. Although the name has changed slightly over the years, the same family, now in the second and third generations, still provides churches and schools with diplomas, music materials, and Bible study programs. Much of the product is written and produced in-house. Owners Reynold and Edith Kremer oversee the operations of Kremer Resources LLC, now located in beautiful Menomonee Falls, Wisconsin. The printing company, Kremer Publications, is still owned and operated by the Kremer family in Butler, Wisconsin.
The Kremers remain committed to excellent service, quality materials you can trust, and personal and friendly care given to every customer.
You can view all the wonderful products associated with Kremer Resources at www.kremerresources.com, or visit the specialized sites at www.diplomashop.com, www.summervbs.com, www.handbellstore.com or www.schoolmusicalstore.com.
What We Believe
• THAT the Bible is God's verbally inspired Word, totally without error, and is the only sure guide to heaven.
• THAT the world was created in six natural days.
• THAT the God of the Bible, the Father, Son and Holy Spirit, is the only true God.
• THAT Jesus Christ is true God and true man in one person.
• THAT we are sinful and can do nothing to save ourselves.
• THAT Jesus came to earth to live a holy life and to die for the sins of all people.
• THAT after Jesus died on the cross, he was raised from the dead and is now our living Savior.
• THAT all who believe in Jesus' death and resurrection will be saved.
• THAT Jesus will return to judge all people, and those who put their faith in him as Lord and Savior will be given the blessing of eternal life in heaven.
• THAT Jesus commissioned all believers to go and teach the Good News of salvation to all people.

Kremer Resources has for its motto the words of Psalm 96:2
"Proclaiming His salvation day after day."