About Kremer Childrens Christmas Service Programs
Thank you for considering a Kremer childrens Christmas service for your church or school. Becuase this childrens Christmas service is fully reproducible, we cannot provide sample pages of the entire program. We have, however, included the opening introduction page, plus the first and last parts of each Christmas service. This should give you a good idea of the service structure.
Each childrens Christmas service comes with:
Reproducible Teacher/Student Score sent to you via the Internet. (Both scores are formatted in PDF - the Student Score is also in Word format.)
Sing-Along/Accompaniment music sent via the internet as an MP3. (You will need proper software to change the internet MP3 versions into a listening CD.)

"The Special Christmas Lamb" Childrens Christmas Service Description
Grades: K-9
Length: 50 Minutes
Group Size: Any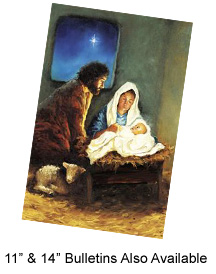 Sheep play an important part in the Christmas story and are front and center in this Children's Christmas service. We know that Jesus was born in a place where animals were kept, perhaps some sheep and lambs as well. It was also the shepherds who were watching their sheep on the hills near Bethlehem who received the first good news that the Savior was born. Sheep played an important part throughout the Bible. Many of the well-known people we know from the Old Testament were shepherds by trade. Sheep were very important to the people in those days. They depended on sheep for their food and clothing. Perhaps it was because of this dependency that God chose lambs and sheep to be frequently sacrificed as a sign of the Lamb of God, the Special Christmas Lamb, who would come to pay the final sacrifice on the cross.
Part 1: LAMBS WERE SPECIAL
Part 2: LAMBS WERE SACRIFICED

Part 3: MARY'S SPECIAL LAMB
Part 4: THE VICTORIOUS LAMB OF GOD
VISUAL – None
SONGS – Four children's songs with sheet music (click the links below to listen to the songs)
Let's Go To Bethlehem Town
Lonely Shepherd Boy
Sleep, My Little Jesus
Children's Song of the Nativity
CD – All children's songs on sing-along/accompaniment CD
WORSHIP SERVICE FULL COLOR BULLETIN – 11" and 14" while supplies last
WORSHIP SERVICE BULLETIN TEMPLATE – Yes
ADVENT SERVICE OUTLINES – No